Episodes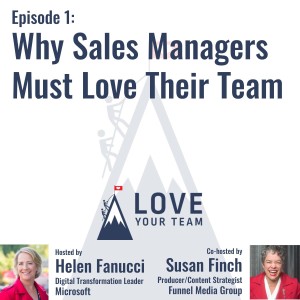 Sunday Jan 16, 2022
Sunday Jan 16, 2022
Welcome to our first episode. This podcast is for sales managers who must retain their top talent in a world where employees have far more choice and power than ever before. Helen Fanucci believes that sales managers are the critical leverage point for any company looking to grow and remain competitive in the innovation economy. For most of us, remote work and hybrid work have caused us to rethink what it takes to be effective. Employee expectations have changed which in turn requires sales managers to adjust their approach in order to retain top talent and build high-performing teams that consistently exceed revenue goals. Welcome to Love Your Team hosted by Helen Fanucci with Susan Finch. 
The power has shifted to top talent
The pandemic forced everyone to work from home in March 2020. Sales leaders went from being able to see their sellers on a noisy sales floor and having face-to-face customer meetings to suddenly having to learn new ways of selling and managing their team.
With working from anywhere the norm, employees have started to rethink how, where and when they want to work. Resignations have reached an all-time high of 4.5M/month while 10M jobs go unfilled in the USA. How are you going to retain and attract talent in a world where anybody can work from anywhere and all companies are now your competitors in the war for talent? Without top talent companies are at risk of going out of business. Sales managers play a huge role in retaining sales talent, delivering results, and driving company valuation and growth.
The Love Your Team podcast discusses proven strategies that sales managers can put into action to build stronger team cultures and deliver outsized business performance while retaining top talent.